Those who love hiking can explore the plush pine inland of Poros.
Discovering the paths through the untouched natural environment, smelling the scent of pine
everywhere and admiring the fascinating view of the surrounding area from the hills of the island
will be a great reward for those who choose to do it.
Trizinia...
Poros and generally the province of Trizinia is one of the few areas that have a wide variety of interests to offer which would be unfair to our island as well as to thousands of Greek and foreign visitors to remain inaccessible.

Environment ...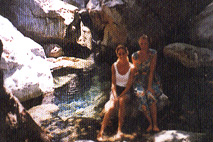 The modern visitor is searching for something more than soaking up some sun or other forms of entertainment.
Today, being more mature, more educated, and sensitive to environmental issues, history and culture he explores and learns everything about an area inside out.
Escape...
Searching for an alternative way to escape. A hiking excursion to places of historical, geological and naturalist interest, through paths to the unfamiliar side of our island.
Until the 60's, the road went up to the Monastery towards the right side of Kanali and up to the left part of Neorio.
Routes...
Locals and tourists went to various locations of Poros on foot or on horseback through the beautiful trails, many of which are preserved until today.

The path started from Sinikismos, passed through the fountains of Virgin Mary, continued to Profiti Elia, then to Saint Stathis and finally ended up at the Temple of Poseidon.

Another way to go to Poseidon's Temple was from the Monastery through the residential area of "Samouili".

From the Temple one could go down to Vagionia to go swimming through Foussa or go fishing in Skarpiza passing by "Cro", a beautiful estate with running water.

Across, in Galata, tourists started from Plaka with donkeys to visit the famous Lemon Forest, with its watermills and waterfall which help maintain the green lemon trees.

Another route was the one that started from the village of Trizina, across to Galata and passed through the boulder of Theseus to end up in the Diavologefyro.